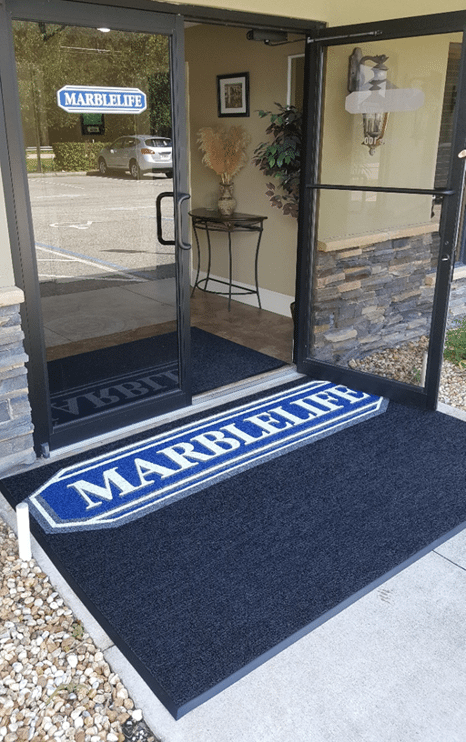 YOUR EXTERIOR "WELCOME" FLOOR MATS should not cost you money.
…Yet most do.
MARBLELIFE's Anti-Wear Engineered Floor Mats trap walk-in abrasive sand and dirt before they reach your floor to damage your floor finish, create a slip hazard, or need to be swept up.
MARBLELIFE's Engineered Floor Mat harnesses material science to tackle floor-wear-problems at their source BEFORE it requires our attention (and your money) to restore.
Ask anyone who has had their floors restored, and they will tell you that a few changes could have saved them thousands. Appropriate mats and cleaners can extend a floor's life considerably.
A Better Engineered Floor Mat…
Read More About Our Mats
Engineered not to just knock dirt off shoes, but to allow dirt and sand to fall into the mat. The durable vinyl loop spaghetti design creates a shock-absorbing open porous mat design allowing dirt and sand to be captured and removed from the walk-on surface. The result is less abrasive sand, dirt, and grit entering your home or building to wear your finished floors. Whether polished stone, glazed tile, vinyl, or wood your floors and floor life are determined by wear. Reduce the grit, reduces the wear, reduces your restoration and care costs, reduces clean costs and potential slip and falls.

This removes dropped dirt/sand from the mat surface preventing the next feet from transferring these abrasives into your home. This engineered solution translates to less abrasive material on your floor, less floor wear, less restoration costs and less time having to dust and sweep up.
What to consider when selecting a mat for INTERIOR versus EXTERIOR use?
Outside we need to deal with rain and sprinkler systems. As such, we want a mat that will NOT capture water, but will allow it to flow through the mat and dry rapidly. This favors a porous mat with an open back. The open back design also facilitates periodic clean-up. Just roll the mat up and sweep away the collected dirt. Easy.
Inside – or on the protected surface – we want to capture dirt, sand and grit – allow it to fall "into" the mat below the walk-in surface BUT not allow it to come into contact with our wear-sensitive floor surfaces. This means we want a CLOSED back mat, with a solid bottom. This prevents grit from falling through mat to contact the protected surface. With a closed mat, like other mats, we will periodically take them outside to shake out the captured dust and dirt.
Interiors use a CLOSED Back design, while Exterior placements will favor an OPEN Back design.
Anti-Fatigue Properties
Stand on this mat once and you will instantly feel the anti-fatigue benefit this engineered spaghetti mat design has on joints as it cushions your feet, making these mats excellent for use in front of standing areas such as the kitchen sink, kitchen cutting boards, the open fridge, workbenches, or other outside work areas.
How does it Work?
Instead of using a solid backed, solid mat designed to scrape shoe bottoms, that provide nowhere for dirt/sand to go after being dislodged, the MARBLELIFE Engineered Anti-Wear Floor Mat is made of a durable weather resistant vinyl spaghetti loop structure which allows water, sand and dirt to pass into and through the mat. By allowing it to fall below the mat's upper surface it is no longer available to be picked up and walked-into your home or business by your next guest.
No more having to tell them to "wipe their feet."
Where does this fit into your floor protection plan?
Exterior Entry Points: Front door, back door, patio door, garage door and basement door.
· Each entrance represents an entry point for abrasive dirt and sand. By placing a on open backed exterior Engineered Anti-Wear Mat outside each door one can dramatically reduce floor wear and transfer of dirt inside. Works well for shoes or pet paws.
Interior Entry Points
· Have a Cat?
o Then you have a litter box, and know that litter sticks to paw bottoms. Add an interior mat outside the litter box to manage litter and reduce its travel beyond the immediate litter box area.
· Have a Dog?
o We love our dogs…and they love us, but they still will not wipe off their paws after their walk or playing outside. Add an interior mat and let your mat help manage those dirty paws by design.
Shuffle Points – Anywhere a person stands for a period of time creates shuffle-wear, for example in front of an elevator button, bathroom sink, toilet, kitchen-sink, vegetable cutting board, open-fridge (LOL), or laundry folding area, garage workbench, crafter's table or barbeque.
· Do Laundry?
o If you stand on a hard floor when folding laundry you are creating shuffle wear underfoot, but more importantly will love the comfort enhancing anti-fatigue benefits standing on this resilient forgiving surface. Your knees will thank-you.
· Cut Vegetables or Rinse Plates?
o Standing on that hard kitchen floor is not just hard on your knees but on your floor. An interior mat will comfort those joints while protecting your floor.
· Where do you store your Shoes?
o If you have succeeded in training the family to remove its shoes we still want to ensure the grit trapped on those soles stays in a controlled area. Expand your mat size to provide space for those parked shoes providing a tidy
Stride Level Protection versus Wipe – If your family is still "Striding" into the house without wiping their feet don't give up just add a matching interior mat to account for your family lifestyle and reduce stress and anxiety without sacrificing your floor life. Check out examples in the gallery.
Colors:
Our most popular color is black (standard).
Special order colors include:
(allow an additional week for special order non-black colors)
Sizes:
Available in 2'x3′ (Welcome) and 3'x4′ (Door width) sizes.
Exterior:
If you are used to a standard welcome mat size, take a look at our images as 2 out of 3 clients will upgrade to a 3'x4′ in order to better match-up with their door size.
Interior:
Match your mat to your area and use. Expand sizes to store shoes neatly along the edge. Customize size to fit edge to edge for a consistent look.
Depth:
Match interior and exterior mats for additional 2 stride protection for those situations where they just won't "wipe their feet." Let your mat strategy reduce anxiety by matching an interior and exterior mat for added protection by design.
Custom order sizes are available.
Logo or "Welcome" Messages Available:
Want to add the word "WELCOME," your family name or company logo?
Available by Special Order, simply add this option to your order with your desired message. We will touch base to formalize your design.
Have a large commercial floor?
Give us a call, larger floors have special needs and require customized solutions involving a variety of different mat materials optimized for these larger buildings broader needs and changing demands as one goes deeper into a building. You have the ability to CAD design carpet strategies based on your buildings layout, architectural intent, surrounding environment and needs. Call us to set-up an appointment to speak to a specialist regarding your needs and interior design requirements.
For More Assistance
If you have questions about how to best care for your stone, tile and wood, would like help in choosing the right products or would like assistance solving a problem, please contact us. We enjoy assisting you and have over 25 years compiled a wealth of knowledge that we are eager to share with you.
You can email us at CustomerCare@Marblelife.com or call us toll free at 1-866-653-9737.
Please Note:
Product may ship separately from your cleaners and care products, should you order together.