Is Your Surface Damaged or Dirty?
Are you frustrated with the appearance of your surfaces or struggling to get them back to "clean"? Reach out to your local MARBLELIFE team. Damage can appear "dirty", but no cleaning product can fix a damaged surface. MARBLELIFE offers to find the best solution to get your damaged surfaces looking new again. Give us a call today to schedule a consultation, it's FREE!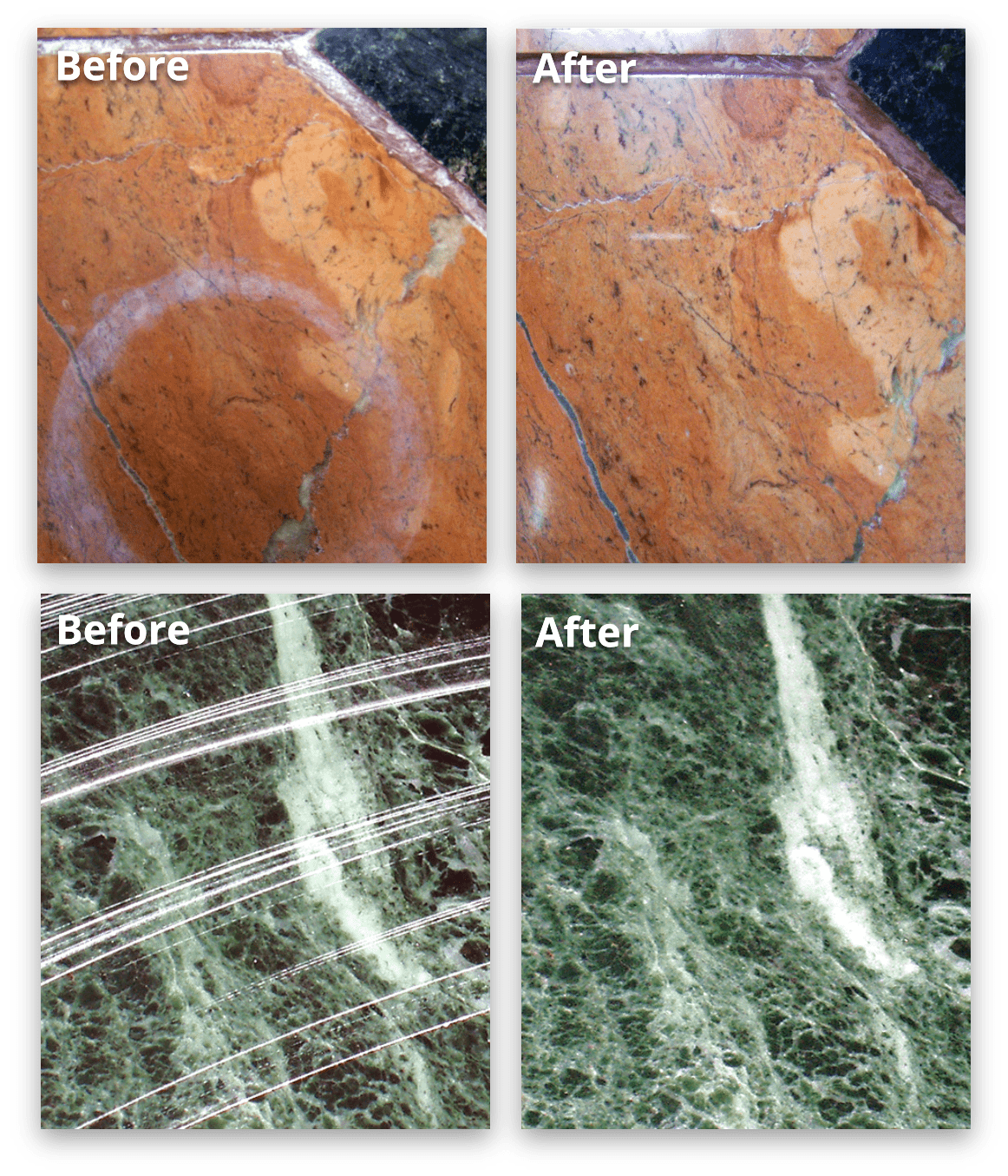 Specialty Cleaners and Sealers formulated to provide exceptional results without damaging or etching your marble or travertine surfaces.
Specialty Cleaners and Sealers formulated to allow your granite's natural beauty to shine without burying it under damaging waxes and oils. Be sure to re-seal every 2 years to avoid potential expensive staining.
STONE & TILE - SHOWER CARE
Our showers see moisture, soaps, shampoos, moisturizers, conditioners, hard water and mold spore interactions daily, making it one of the harder surfaces to maintain… unless you have the right products for the job. MARBLELIFE sealers, cleaners and specialty products for shower care.
Specialty Cleaners and Sealers formulated to provide exceptional results without damaging your grout's seal. If you have grout stains, you likely have damaged your grout's seal. We can help.
Concrete Cleaners, Mold & Mildew Removers and Sealers. Got time at Home – Consider power washing the driveway and walkway with MARBLELIFE Mold & Mildew Stain Remover. Tremendously satisfying to watch that black wash away.
Floor Cleaners formulated to remove oil, dirt and other contaminants without damaging floor or grout surfaces. Formulated to move dirt out of your way when mopping. Suitable for use on all surfaces. Will not damage grout seal, grout lines, marble or travertine surfaces.
Consider a combination kit AND SAVE.
Cleaners designed to clean without depositing wax build-up which eventually requires a professional cleaning to remove…but don't worry we can help you with that too.
FLOOR MATS THAT REDUCE WORK
Proper mats can dramatically reduce floor wear and cleaning requirements. Yet most mats are little more than promotional welcome signs. Learn the difference and put them to use for your benefit to save time and restoration costs later.
MARBLELIFE's employees have long utlized MARBLELIFE cleaners on their cars. Now we are rolling this product out to share with the public.
When our president began wearing glasses a point of frustration was knowing that a wipe could apply a cleaner but could not remove what it was cleaning as it was already saturated, so in effect it just smoothed out the oil.
CLEAN-IT-FORWARD WAR ON COVID-19
Help defeat COVID-19 by Cleaning-It-Forward. Instead of using a paper towel to shield contact from shared surface such as gas pumps, ATM touch pads and Grocery Card handles, how about we spray it down with a quick acting cleaner and wipe the surface down. Protects us, removes contamination, and products the next person. Lets remove COVID19 from our lives. Secure a 4 oz refillable bottle for each family member – and lets enter the fight.