Description
PRODUCT DESCRIPTION
This is a highly effective kit for cleaning even the most mildew covered grave markers, utilizing products that are Eco-friendly and made in America. Removing mold, algae, moss and lichen is easily achieved with these professional products. The detailing pad is included for cleaning within the engravings, cracks and pitted areas. The pad included is safe for use on marble and granite and wont scratch. Should you need any further assistance, help is merely a phone call or email away.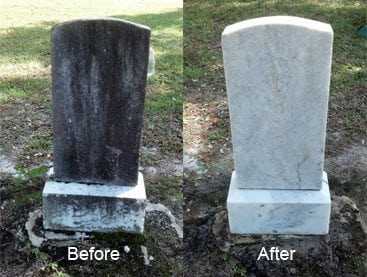 Taken December 2013, Lake Mary, Florida
Memorial Kit Contains
Mold & Mildew Remover 32 oz
Marble & Travertine Cleaner 32 oz
Tan Cleaning Pad
25% Instant Online Discount – We hope you will join the effort!
Demonstrating our thanks and respect for those that paid the final price in order that we may live free is priceless.  Marblelife donates $5 from each kit sold towards the WOUNDED WARRIOR PROJECT.
MARBLELIFE HONORS OUR VETERANS!
This Veterans Day, Marblelife Distribution employees will be donating their time to clean the headstones of our forgotten Veterans who may not have family left to care for them.  Marblelife believes that it's important that all veterans know how much gratitude we have for the sacrifice they have made for us and that they will never be forgotten.
Please join with Marblelife in cleaning a headstone of an American Veteran that looks like it may have been forgotten.  This is a simple task with a huge meaning.  Marblelife Distribution is honored to supply the products for this great act of respect for our American Veterans.  Email to Marblelife at VeteransWall@marblelife.com a photo of the headstone/s you cleaned and Marblelife Distribution will send you a coupon for a free bottle of Marblelife Marble or Granite Cleaner.
Along with the photo of the headstone include the name, rank and city of their resting place and we will honor them on our Veterans Memorial Wall at www.MarblelifeProducts.com/Veterans.
We are free to praise and complain because they sacrificed.
God Bless America