Many people think marble is indestructible and can handle just about anything because it's stone, and therefore "indestructible".  Believe it or not, marble needs special care to keep it looking shiny, clean, and stain-free. Here's why!


Many cleaning products are acidic. Acidic products can dull the finish and color of marble, as acids etch or dissolve marble.  Vinegar, glass cleaners fortified with vinegar, and many glass cleaners use acids as part of the cleaning strategy making the unsuitable for marble. They may sound benign, but they can break down the marble surface causing the need for restoration.


Check out this recent restoration.  The before shows what a vinegar cleaned tabletop looks like, while the after shows what it used to look like, and what it looked like after MARBLELIFE's restoration visit.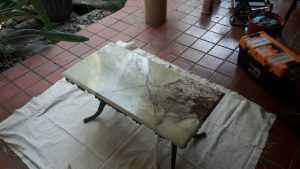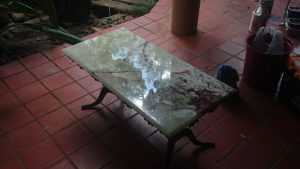 Marble should be cleaned regularly, but with an appropriate non-acidic marble safe cleaner, such as MARBLELIFE MARBLE & TRAVERTINE CLEANER.  Never use bleach or abrasive scrubbing sponges.


Marblelife® has the right cleaner for every hard surface and job. We carry a marble cleaner that is safe, non-toxic and easy to use. It is made especially for marble so it won't scratch or dull the surface or its finish. Even dish soap is not recommended.


Even tap water can create a problem is local water sources contain iron (rust stains), hard water or mildly acidic.  Mildly acidic simply means it takes a little longer to dull your table.  Marblelife cleaners are so effective that if we made them with tap water the first thing they would clean is the water itself, literally removing the impurities and separating them from the water.  Just one reason of many that, MARBLELIFE utilizes purified water.


Want a shiny surface?  So do most American homeowners.  In the US unlike other places we associate clean with a shiny surface.  Unfortunately, many manufacturers have begun adding waxes to their products in order to capitalize on this association.  Waxes trap dirts and being soft actually attract dirt to the surface.  MARBLELIFE goes another way, our cleaners are formulated to remove oils and other surface impurities which allow dirt to stick to surfaces for a truly clean safe and marble friendly surface.


Stick with Marblelife® Marble & Travertine cleaner and you won't go wrong.


Stains? Its easier to prevent a stain than remove one.  Once these pesky colorful chemicals soak into your stone, cleaning them out is like trying to clean a test tube with a sponge…its tough to reach the bottom.  While our cleaner does an exceptional job penetrating pores and floating debris out to the surface, the best answer to stains is simply not to get them.  This means sealing your stone surfaces periodically to fill in those pores before they trap frustrating color.  MARBLELIFE's simple wipe-on wipe-off STONE SEALER should be applied every other year.  A little TLC will save a ton of tears associated with the cost to remove a stain, as this will mean taking your surface out of service for several days while it is poultice repeatedly to draw out the stain, and then without assurances of success.  Better to spend a few minutes and seal your counters periodically.


Marblelife® carries kits for all of your marble needs.  https://marblelifeproducts.com/product-category/carekits/countertopkits/marble-counter-top-kits/


All of our products are 100% guaranteed. Call Marblelife® today.  We have a product for all of your natural stone surfaces, indoors and outdoors. We also have certified natural stone craftsman who can advise you on what products you need. We service natural stone in your home, so give us a call for a free estimate. There is no obligation.


 Marblelife®, we're here when you need us.