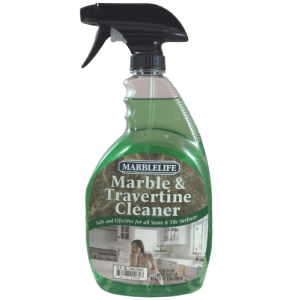 Most big-box stores carry cleaners for just about everything. But, do you want to pick and choose a cleaner that's not right for your surface?  Do you dislike having numerous cleaners taking up space under the kitchen sink? Sometimes a cleaner is used once and then just sits there.  It's always hard to choose which product is right for you, and MARBLELIFE® has the solution for all of the many surfaces in your home.
Many  MARBLELIFE® cleaners can be used for multiple surfaces. One such product is MARBLELIFE® InterCare Cleaner. It is acid-free and won't cause damage to any surface you use it on. It won't discolor, scratch or harm the surfaces you use it on.  It easily removes oils and other residues from surfaces. It doesn't just make the surface "appear" clean. It makes the surface squeaky clean, shiny, and sanitary.   Grease and oil buildup along with germs and other types of unhealthy, unseen build up are no match for MARBLELIFE® InterCare.  Unsightly smears, smudges, and debris will be wisked away, and InterCare does not leave a film like many acidic cleaners do.
If you have an outdoor stainless steel surface, InterCare will remove even the toughest surface debris caused by rain, sea salt, humidity, and even salt residue used for snow removal disappears.  It makes stainless steel sparkle and look like new again.
MARBLELIFE® InterCare cleaner is a multi-use cleaner. You can use it on your natural stone surfaces and on stainless steel.  It is safe to be used around children and pets, and it will not harm other surfaces.  You can even use it on wood surfaces.
If you're looking for an all-around safe cleaner for everything in your home, you can trust MARBLELIFE® InterCare cleaner to get the job done. We guarantee it!