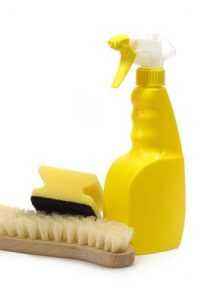 You might be using acidic cleaners to disinfect your stone surfaces, because it seems to be a hard clean that necessitates chemical power. However, if you've kept up with MARBLELIFE stone care tips, then you've repeatedly heard that acidic cleaners should not be used to maintain your stone surfaces. If you hadn't already known this fact, then we're going to break down exactly how acidic cleaners are your worst enemy when it comes to stone conservation.
The Big Issue
If you have stone surfaces, such as marble, granite, or travertine, acid can cause a variety of problems. This is especially true if you have tile and grout. Despite the type of natural stone, acidic cleaners can:
Attack many sealers used to seal the grout. Acids shift the pH to the point that the sealer will start the process of breaking down.
Acids can leach out the dyes used to color the grout. In fact, often when you notice a clean lightening it is due to loss of color, not lack of dirt.
Acids are used to clean excess grout from the top of brick and tile. If masonry acids are used in this matter, than the use of acids can indeed damage the grout.
If you are talking about grout around a marble, travertine or terrazzo floor then the very act of cleaning will dull your floor, as acids dissolve calcium carbonate, the very chemical from which these materials are made.
Today's Alternatives
So you're probably concerned and thinking, "What am I going to do now?" It seems that every cleaner solution has some percentage of acid presence. But, that's actually not true. The experts at MARBLELIFE have developed a whole line of cleaners that are acid-free, easy to use, and affordable!
These products were developed by the experts in stone care with years of research and field experience. The line of cleaners is based on safe solvents and surfactants that effectively clean, degrease, and shine. These are the same products that the experts use when they make a commercial or residential call!
No longer bring your stone to its own death with generic acidic cleaners, or bleach and vinegar concoctions. The line was made in mind for you to become the expert in stone care. Plus, we provide plenty of tips, tricks, and tutorials to help you get the most out of our products.
So, if you've been working with acidic cleaners and wish to reverse that damage, try investing in MARBLELIFE products. You won't regret it!