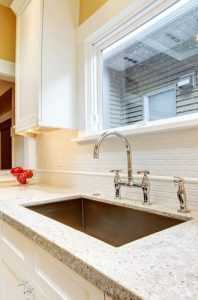 Granite countertops can add some major beauty points to any home. That's why you want to ensure you're taking good care of these surfaces to help them reach their utmost potential. You're probably cleaning and disinfecting your granite, but are you taking further steps to protect the color, clean, and shine? Maybe yes, maybe no. Whether or not you are taking these steps, you can benefit from learning about the granite sealing process and how it can help your granite surfaces.
Cleaning Precautions  
One thing all people who take care of granite should know is that acidic cleaners are your worst enemy. If you're already cleaning/disinfecting your surface with acidic cleaners, then before making any moves, switch to a non-acidic substitute. Sealing your granite won't help any if you're going to use a counterproductive cleaner. Moreover, you want to look for a cleaner that travels into the pores of the granite and will lift out the oils trapped inside without leaving a residue. We suggest MARBLELIFE's Granite & Quartz Cleaner.
Why Seal Your Granite? 
Sealing your granite is an essential part of the granite maintenance process. Just like with any stone surface, there are small pores in which bacteria, liquids, and dirt can seep into, damaging your surface slowly from the inside. Sealing your countertops will help keep those foreign materials out. Your granite will be far less susceptible to bacteria or stains from red wine, coffee, juice, etc.
If your granite is more porous or light in color, it's imperative that you make sure the surface is sealed soon as possible, as the stains can be very hard to extract without professional help.
How To Seal Your Granite 
Unless you're 100 percent sure that the granite has been sealed properly within the last year, you should seal your granite. It's not expensive, it's easy, and it could save you from a much more time consuming and expensive issue if an unexpected liquid drop occurs.
Apply a granite sealer at least once a year or twice for areas that receive a lot of traction. No matter how quality your sealer may be, the coating is bound to slowly deteriorate as your cleaner emulsifies and disinfects.
Sealing your granite should be simple and straightforward. Don't purchase anything too complicated. MARBLELIFE products are made by the professionals who are experts in stone care and we provide a simple micro-mist spray that makes for a quick and effective seal. With MARBLELIFE's Granite Sealer, just spray the counter evenly, then allow to sit for a few minutes. Before the sealer dries, buff off the excess and you're done!
Conclusion 
To summarize, be sure to take effective care of your granite countertops with acid-free products. Any stone surface needs proper maintenance to be sure they stay beautiful and compliment your home. Furthermore, for the counters to remain in their best condition, seal them and help them fight off foreign elements.
MARBLELIFE's team of experts can also help you if you have any further questions or need assistance with projects big and small.